The Story of Henny Penny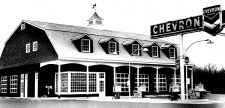 The Henny Penny convenience stores are operated by Petroleum Marketing Group, Inc. (PMG), a family-owned company. PMG acquired these stores from Hendels, Inc. on October 2, 2018. The sites have served Connecticut (CT) residents since 1949. As part of its fuel distribution business, Hendels, developed a network of gasoline stations over the years. In 1982, Hendels converted a repair garage at one of its gas stations to a convenience store and the Henny Penny chain of convenience stores was born.

Hendels continued opening more Henny Penny stores to better serve a population whose ever-more hectic lifestyles benefit from the fast, reliable and convenient service provided by our stores. While our first stores were located in southeastern Connecticut, there are now 25 Henny Pennys located in communities throughout Connecticut (CT) and more are on the way.

PMG is now carrying on the commitment of providing the public with the customer-centered personal service and operational integrity that one would expect from a family-owned organization. Rooted in tradition, focused on utilizing the technological advances of today and determined to continually adjust to meet the needs of our customers in the future, the PMG family looks forward to working and growing together with the public we are proud to serve.
---
---